https://secure.qgiv.com/event/100milechallenge2023/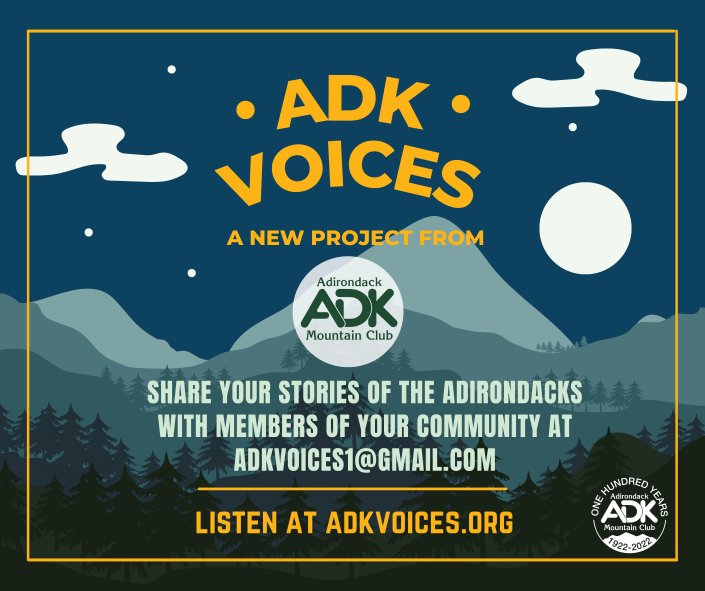 The Adirondack Mountain Club is nothing if not for the stories of members; we are our stories. ADK at 100 years has lost so many stories; more are being lost each year. It is ironic that this storied organization does not have a formal history program, a commitment via human and financial resources or at least a mention in its guiding strategic plan.
Recognizing the need to capture Adirondack Mountain Club oral history – a dedicated group of passionate volunteers from throughout organization has banded together to make this a reality. Funding has been provided by generous donations from ADK chapters.
What is ADK Voices?
We are a group of ADKers from across New York State and New Jersey working in collaboration with OurStoryBridge, a nation-wide platform, resource and toolkit for producing a crowdsourced community story project emphasizing audio history and sharing. Using OurStoryBridge we are recording short stories (five minutes or less) of ADK chapter folks, ADK staff – past and present, stories of the past and stories of the present for use as historical record.
The recorded stories will be publicly accessible on a website we are currently building with the expectation the ADK administration will link ADK Voices to adk.org. Our group is proud and excited to bring this member-directed, chapter-driven project to reality.
Do you have a story to tell? Send an email with a summary to: trails@adk-gfs.org
Go to the new website: https://www.adkvoices.org
Fall Any Year
Delaware-Otsego Audubon Society (DOAS) shares this link for anyone interested.
Below is a link to subscribe to the forecast for good hawk migration days.
June 2022 – Chapter weekly outings and monthly meetings are now open to the general public
Starting in June 2022, all weekly hikes sponsored by the Susquehanna Chapter of ADK are open to the general public. We hope that you can join us!